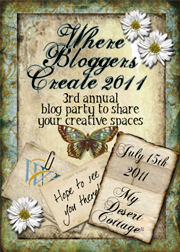 My Desert Cottage
This year for the first time, I'm linking up with My Desert Cottage and a fun blog party to share our creative spaces. Last year, over 300 ladies participated, and lots of creativity was shared.



I love getting a backstage pass to see where creative folks hang out. I admire those who can create on a desk in a corner of a guestroom, and feel inspired by those who have an entire room set aside for their workspace.


So, my friends, here's your VIP pass to my "Art Room" as we call it.


When I opened my Etsy shop, My Artsy Baby, I was using a small corner of our office to complete my orders. Around a year ago, in the process of remodeling our home, we converted our two car garage into a closed space. One half became my daughters room, the other half became my art room, which is also home to my washer & dryer. I had been given room to breathe,
create, and personalize however girly I felt like.
I love my space. It has everything I need,
except a sink, but that's ok.



I have two easels, one in each corner. One is for my real artsy baby toddler who is my shadow, and one in the other corner for myself. On my end, I have a $3 garage sale dresser that I painted, which holds all types of crafty necessities. On the kids end I have a $5 garage sale desk that is used for kids craftiness. In the middle, I use a set of cabinets that were in our home when we purchased it. They hold all my paints. Yes, these things are full.
On the wall opposite all this is my laundry as well as more storage shelves.
I have to say, even with all this, my art wall is my favorite. It's not the art I make that hangs so proudly, it's a variety of projects my kids have done over the years.

I am blessed to have this type of space to be creative, I know that. I never take it for granted, although its almost never as tidy as it is in these pics. If I ever find an artist whose space is always, clean, I'd like to shake their hand one day.