I'm going to share with you one of my most favorite projects I've done with my kids. In fact, we've made a few of these as gifts for family members, and they always love them!
It's fun, sentimental, and beautiful project you can do with your kids of any age.
If you have kids in your life, chances are you've acquired an art project or two that have been deemed refrigerator worthy. As cute as most of their little projects are, you may not hang them on a main wall of your home as a focal piece. Well, I have a project that includes your little ones thumbprints, that will look good enough to hang in an expensive gallery when it's finished.
1. Base coat your canvas. To give the background depth and movement, use a monochromatic color and add swirls. I used Baby Blue by DecoArt for my swirls.
2. Use a paint pen and sketch your tree design, with lots of curls and curves in the branches, then paint it in. For this I used Asphaltum (brown) by DecoArt. When it's dry, you can add a bit of white for highlighting the trunk and branches.
3. Next, you'll need your kiddos. Paint their thumb or pointer finger, and help them make dots all over the canvas. You'll have to reapply paint several times to their little fingers. Be generous with the amount of thumbprints, I think lots of them look great! Remember if one doesn't turn out just right, it's okay. We're going to fix that in the next step. I used a different color per child, and wrote their names and which color was theirs on the back frame of my canvas. For my colors, I used White, Uniform Blue, Camel, Houser Medium Green, and Razzle Berry by DecoArt.
4. When the little thumb prints are dry, it's time for the final details. This is also where you can cover up any little boo-boos that the kids might have made. I used a white paint pen, and added circles around some of the thumbprints, as well as dots in the centers of others. I also added a few small dots all around the canvas. This is like the icing on the cake, giving your canvas just the right touch. I also let my kids sign the sides of the canvas and included the date, for one more personal touch.
Gallery worthy? Yes, I do believe so!
This project was a finalist in the
Season 6 One Month to Win It {Craft Competition}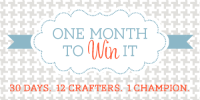 Like what you've seen? Follow along