I'm going to take a guess and say you've never heard country quite like this before. Just in time for the 46th Annual CMA Awards, you can join your
Veggie friends to sing along and celebrate the heart of country. Just get a mental picture for a second, wouldn't it be hilarious to see Bob and Larry on the CMA red carpet?
The all new Bob and Larry Go
Country music CD is full of all new recordings of top
country songs recorded by the Veggies, and includes 10 country songs! I dare you and the kids not to laugh and sing along when you listen to this album.
Like most of you, I'm particular about what I let the kids listen to. With this fun new album, I enjoy that the kids get the chance to learn some older songs they didn't know before, as well as some of the most popular tunes today. I like that they get the idea of what wholesome music is, and that we don't only have to listen to the Christian stations to enjoy clean music. Plus, you can't help but love the VeggieTales one-liners scattered throughout.

Bob and Larry Go Country is available on CD and iTunes right now!
Songs Include:
2. Mammas Don't Let Your Babies Grow Up To Be Cowboys
4. I Will Always Love You
Would you like to win your own copy of this CD so you can get your county on with the Veggies? Oh, you know you do. You're just waiting for an excuse to dust off your 10 gallon hat and cowboy boots, crank up these tunes and bust out some Life is a Highway with the kids. They'll love it won't they!
Now's your chance to get your hands on Bob and Larry Go County. What do you think would be the funniest country song the Veggies could do? Leave me a comment and let me know, and you're eligible to win!


a Rafflecopter giveaway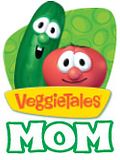 A copy of this DVD was given to me for review, no other compensation was given.
My opinions are always 100% my own, and I was not required to give a positive review