Unless you live in a cave, you've all seen the typical faded Little Tikes cars of various types. You have to admit, Little Tikes toys are kind of like the cockroach on Wall-E. They're made so well, they're going to be around forever no matter what happens to the world around us. However, if they're left outside, the colors fade and they start to look pretty worn out, although they still have lots of life left in them.
I am soooo excited about this DIY project! In keeping up with the "cars" theme (
see my Hot Wheels giveaway
), I thought now was the time to let it shine.
I've had it finished for a bit, but wanted to see how well it held up before I tell everyone how to go do this themselves.
I've read lots about the Krylon Fusion for Plastics spray paint, and thought this would be the perfect opportunity to put it to use.
Little Man's car was originally the red and yellow kind that after years, looked more like pink and cream.

Following the manufactures instructions on the Krylon spray paint, I cleaned the car. Prep work is extremely important on this project. Next, I took it apart, which surprisingly was easy, because only two screws hold it together. Once I did that, I was shocked at how much nastiness hangs out in the cracks and crevices of this toy, and I had to clean the grimey parts again.
Next, I put plastic bags over the wheels, and taped up all the small parts I didn't want painted blue or green, and went to town. I'm not trying to reinvent the wheel, so I'm not going to give a tutorial on how to spray paint without dripping, etc, but I'm sure there's one out there somewhere.
The directions said the paint would be dry in 15 minutes, and ready to use within the hour. I actually let it set overnight before moving to the next step of taping off and painting the smaller details. I taped off the wheels and steering wheel and gave it a coat of Krylon silver. This actually wasn't plastics paint, but I thought I'd give it a try anyway. *NOTE* If I were ever to do this again, I would do the painting order opposite of what I did. I'd paint all the small parts FIRST, then cover them and paint the bigger parts.
After letting it dry overnight again, I was ready to put it back together. Once it was put back together, I had some finishing touches to take care of. With my white paint pen, I added a pinstripe, a license plate, and some eyes and a grill. Once that dried well, and just for good measure, I covered the entire car with Krylon for plastics Clear Coat.
I finished this car makeover about a month ago, and it has since been played with, climbed on, driven, and even left outside in the rain. I can honestly say that so far it looks as good as it did the first day. The only part of the paint that has worn off at all is where the door opens and closes. It just rubs too closely I guess. You can't even see it when the door is closed though.
Needless to say, my sons love it! I'm on the lookout now for more cars to makeover. Wouldn't a green and yellow John Deere car be awesome? You never know, one of these days, you just might see one here.
This project has been featured: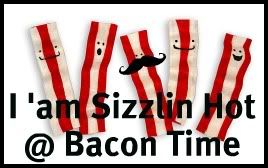 You can't win if you don't enter!