It's crazy to think that it's a new year already! Are you still taking down Christmas or have you fully recovered and are moving on to all the resolutions to keep the house cleaner and more organized?
If you've been able to hold onto any of your popcorn tins from Christmas, I'm going to show you how to reuse them for the rest of the year. Using this super easy paint technique, you can turn them pretty galvanized metal containers for planters, trash bins, or storage containers for your organizational needs.
If you didn't keep your popcorn tins, don't worry, they're easy enough to find at your local thrift stores and garage sales now that you know you should be looking for them.
In fact, you can take the technique you learn here and use it on any size thrifted containers you come across.
Now that we've mostly finished transitioning into our new farmhouse in Tennessee, I'm finding time to craft and decorate again.
I took a bit of a break for about half of the year last year, but I'll be joining the monthly Thrift Store Challenge again for 2019.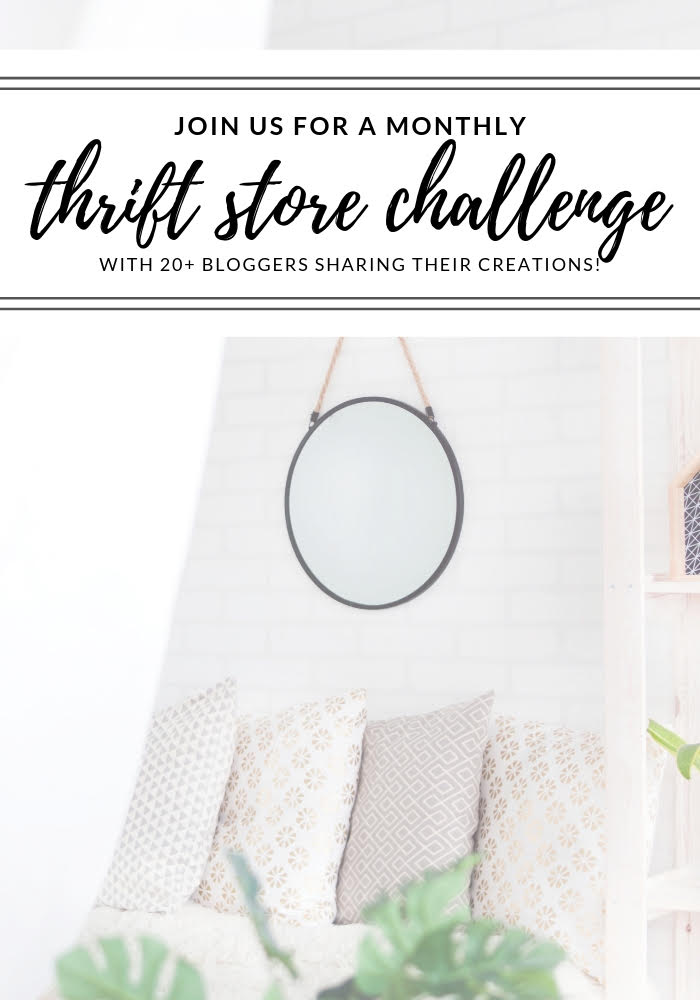 The Rules:
Upcycle an item(s) from a thrift store, resale store, or garage sale into a new piece of decor.
There's no monthly theme.
There's no budget to stick to.
Meet the Hosts
Angela | Simply Beautiful By Angela – Heather | Glitter On A Dime Amanda | Domestically Creative – Michelle | Our Crafty Mom Jenny | Cookies Coffee and Crafts – Ali | Home Crafts by Ali – Lynn | My Family Thyme – Emy | Semigloss Design – Denise | My Thrifty House – Michelle | Michelle James Designs – Debra | Shoppe No 5 – Habiba | Craftify My Love – Victoria | Dazzle While Frazzled – Ann | Duct Tape and Denim – Molly | Just a Little Creativity – Morgan | Charlston Crafted – Meredith | Southbound Blog
Make sure you follow our board on Pinterest for more upcycled decor inspiration!
If you look around, you'll see that metal planters are everywhere. I just saw this one in Target for $24.99 in the garden department.
You can find the popcorn tins in the grocery stores brand new with popcorn for about $5 and thrifted for half that price or less.
Galvanized Metal Paint Technique
Supplies:
Popcorn tin
Metallic spray paint (I like the metal look from both the Krylon & Rustoleum brands)
Gray craft paint
White craft paint
Black craft paint
Chip paint brush
Damp cloth or paper towel
Begin by spray painting your tin with metallic paint.
You'll be using your three craft paints for the next part- gray, white, and black.
Let the spray paint dry completely first. Then, begin by very lightly loading your paintbrush with gray paint, and pounce somewhat randomly over the tin. Don't cover any one area completely though.
Repeat the process with your white next, then just a dab of the black, blending all three colors as you go.
Use the damp cloth to pounce or rub out any areas that look too heavy.
You can always go back with your spray metallic paint in some spots if you feel like you've gone too heavy with the craft paint.
If you're going to be using yours as a planter, you can use a hammer and nail to poke several drain holes in the bottom.
You can also use this typography technique to add letters and words to label your tins if you want.
And now for more thrifty goodness!
Check out what my fellow upcyclers created below!